With summer fast approaching, you can now relax in a beach hut on Barry Island more easily, cheaply and for a whole year at a time with an annual ticket.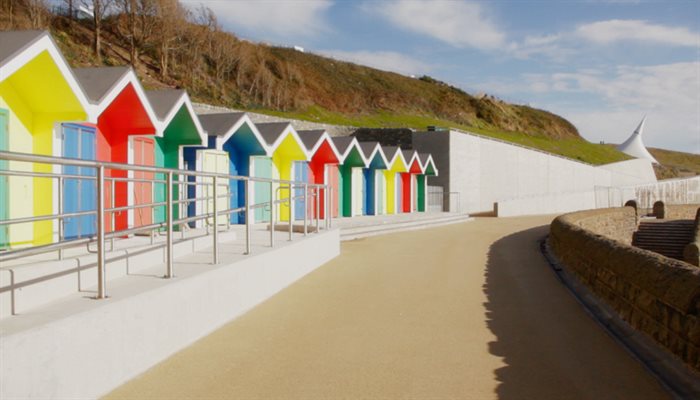 At the Vale of Glamorgan Council's April Cabinet meeting, approval was given to change the way the Council rents beach huts to the community, maximising their usage and enjoyment.
Subject to demand, up to 12 beach huts (6 large and 6 small) will be made available for a year's rental, with the remaining beach huts available for online, telephone or on-site bookings.
From Monday 16 May, bookings can be made for an annual beach hut ticket by contacting the Council's C1V contact centre on 700111. The annual ticket comes with the bonus of a free car parking pass for the Nells Point car park, this is subject to terms and conditions.
Daily use of the beach huts can now be booked online by visiting www.visitthevale.com/barrybeachhuts. Beach huts can also be booked in person when on Barry Island, but to avoid disappointment it is recommended to book in advance, either online or by phone.
The cost of renting a beach hut has been significantly reduced.  Daily use costs for a small hut will be £10 for peak times and £5 for off peak, while large huts will be £20 during peak periods and £10 during off peak.  The cost of renting a hut for the year for the period 1st April to 31st March will be £500 for a large hut and £350 for a small hut (inclusive of VAT).  A reduced rate of £416 for a large hut and £291 for a small hut will be offered for a ten month period in this first year.
The developments were welcomed by Cllr Lis Burnett, Cabinet Member for Regeneration:
"We are very lucky to have such fantastic resources on our coastline which everybody should be able to enjoy and benefit.

"Our aim is to have the beach huts used as widely as possible and by as many people as possible.  By reducing the costs and offering flexible ways of booking, we have made it much easier for our residents and visitors to get the most out of our beach huts."